SuperSoil 25L bags
£5.99
Out of stock
Description
Our 100% natural, peat-free, organic and veganic SuperSoil has been created to help plants get off to the best possible start, without causing environmental damage.  
Whether for replacing boarder soil, replenishing raised beds, or tackling new planting schemes, avid gardeners will know all too well, that an early investment in their plant roots will lead to substantial rewards when it comes to harvesting.  
Packed full of organic nutrients for optimal plant health, The Real Soil Company's SuperSoil is the solution gardeners have been searching for. 
Easy to handle bags to put in the boot of the car,
or we can deliver….  Delivery cost (usually £36, but subject to distance), unless combined with a turf delivery, may be added at checkout.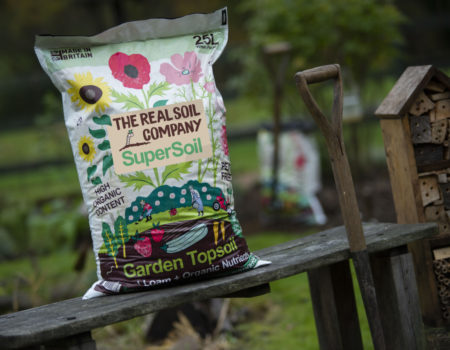 Why use SuperSoil?
SuperSoil's natural 'boosters' will stimulate quicker plant establishment and better resilience against pests and disease, whilst also enabling edible crops to benefit from nutritional enhancement and a higher crop yield. 
Other welcome benefits come in the form of improved water retention and release for optimum plant growth, which also helps to provide a more balanced and workable material for gardeners. 
In addition, SuperSoil is entirely peat-free and sets a new standard for sustainable gardening, perfect for those gardeners seeking the best peat-free alternatives for their cherished plots. 
Meeting and improving on the BS3882 standards for compliance and reliability, The Real Soil Company offers you an enhanced natural topsoil with outstanding characteristics and performance.